After nearly a year since our last public lecture, the Redd Center is pleased to announce two upcoming lectures for the Winter 2021 semester.
Whereas we traditionally live-stream our events on YouTube and Facebook, these two events will be hosted via Zoom webinar. They will later be archived, along with other past lectures can be viewed at the Redd Center YouTube Channel. We encourage educators to consider including one or many of these events in course syllabi, asking student to watch live, participate live in Q&A, or use the lecture videos as the launching point for a writing assignment or extra credit.
January 29
Dr. Jeannie Banks Thomas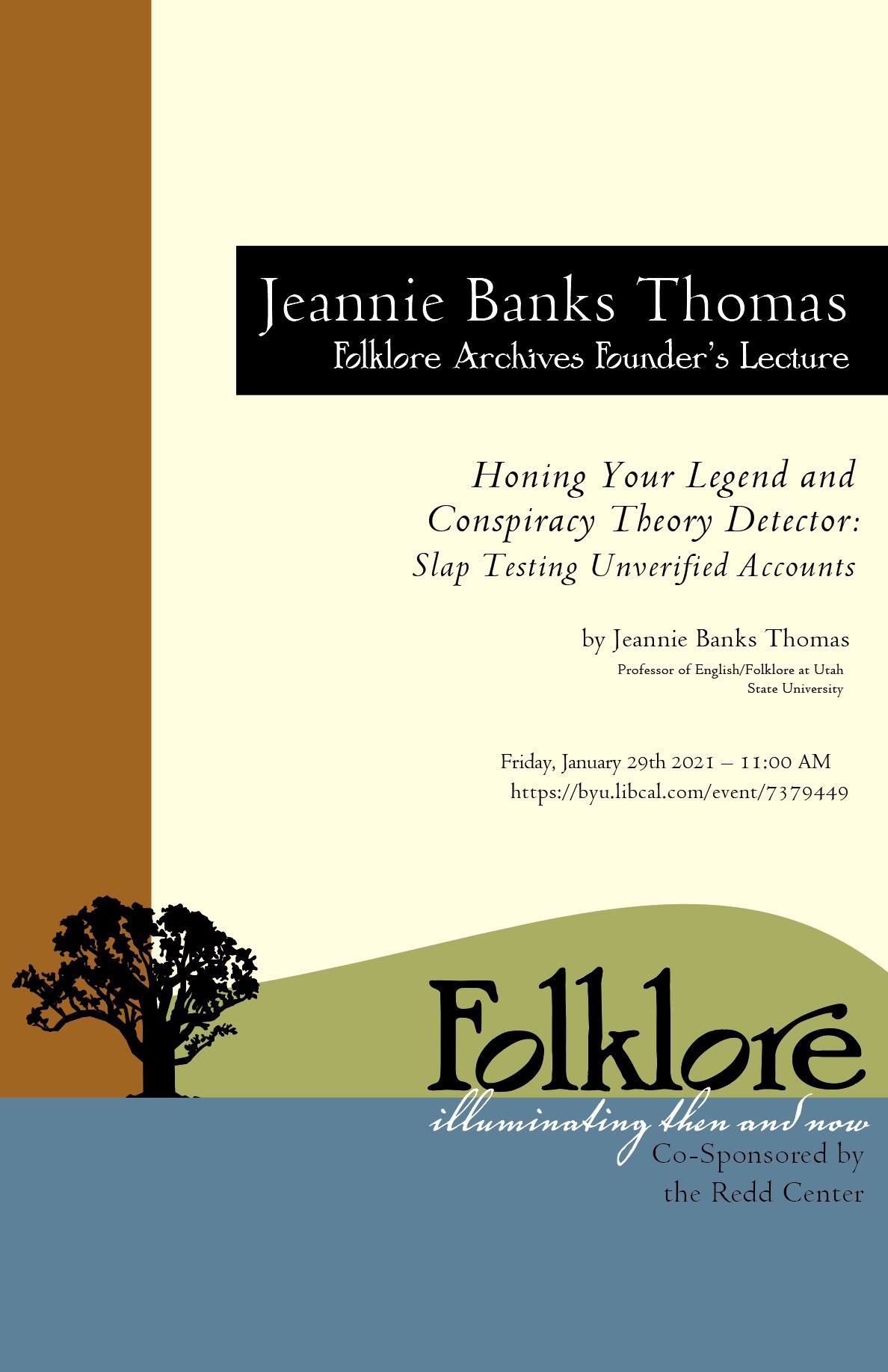 The Redd Center co-sponsors the William A Wilson Folklore Archives at Brigham Young University's annual Folkllore Archives Founder's Lecture. This year they are honored to be hosting Dr. Jeannie Banks Thomas. Her lecture "Honing Your Legend and Conspiracy Theory Detector: SLAP Testing Unverified Accounts" will be free, virtual, and open to the public. It's an event that you will not want to miss.
Jeannie Banks Thomas is a professor of English and Folklore at Utah State University and a Fellow of the American Folklore Society. She is the author or co-author of several books including Putting the Supernatural in Its Place(2015); Haunting Experiences (2007); Naked Barbies, Warrior Joes, and Other Forms of Visible Gender (2003); andFeatherless Chickens, Laughing Women, and Serious Stories (1997).
More info can be found here: https://byu.libcal.com/event/7379449
March 4
Walter Echo-Hawk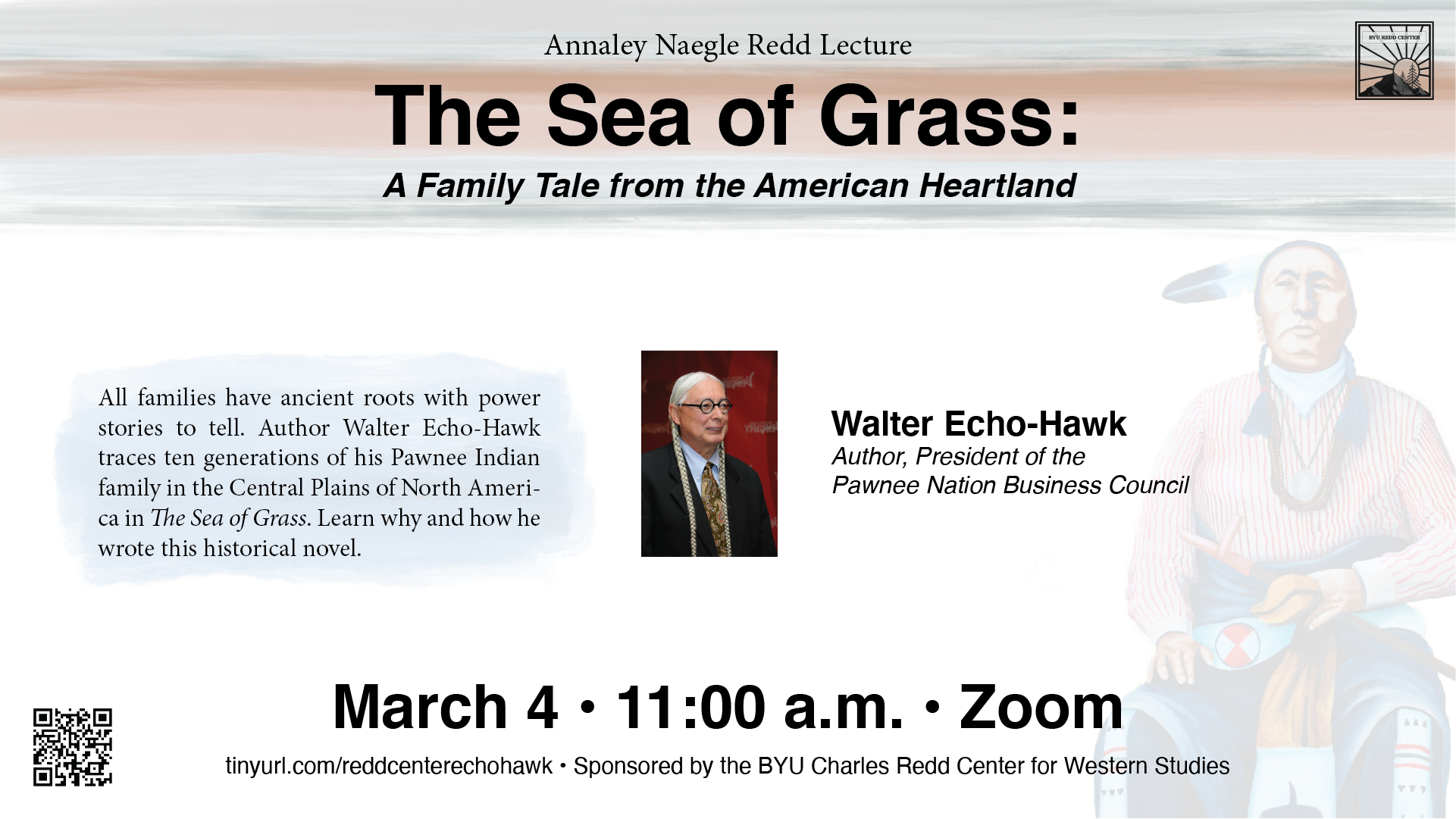 The Sea of Grass: An Family Tale from the American Heartland
2021 Annaley Naegle Redd Lecture
This is the 2021 Annaley Naegle Redd Lecture. Walter R. Echo-Hawk (Pawnee) is a distinguished Native American attorney, tribal judge, author, law professor, and activist. He was at the center of the passage of the 1990 Native American Graves Protection and Repatriation Act and 1994 American Indian Religious Freedom Act Amendments. His books include In the Courts of the Conqueror: The 10 Worst Indian Law Cases Ever Decided (2010), In the Light of Justice: The Rise of Human Rights in Native America and the U.N. Declaration on the Rights of Indigenous Peoples (2013), and The Sea of Grass: A Family Tale from the American Heartland (2018). In this lecture he will share from The Sea of Grass, a historical-fiction novel based on his Pawnee ancestors on the Great Plains.
11:00 AM
Via Zoom Webinar @ https://tinyurl.com/reddcenterechohawk
Facebook Event Page: https://www.facebook.com/events/167767814746964


---
March 25
Thomas Alexander, professor emeritus, Brigham Young University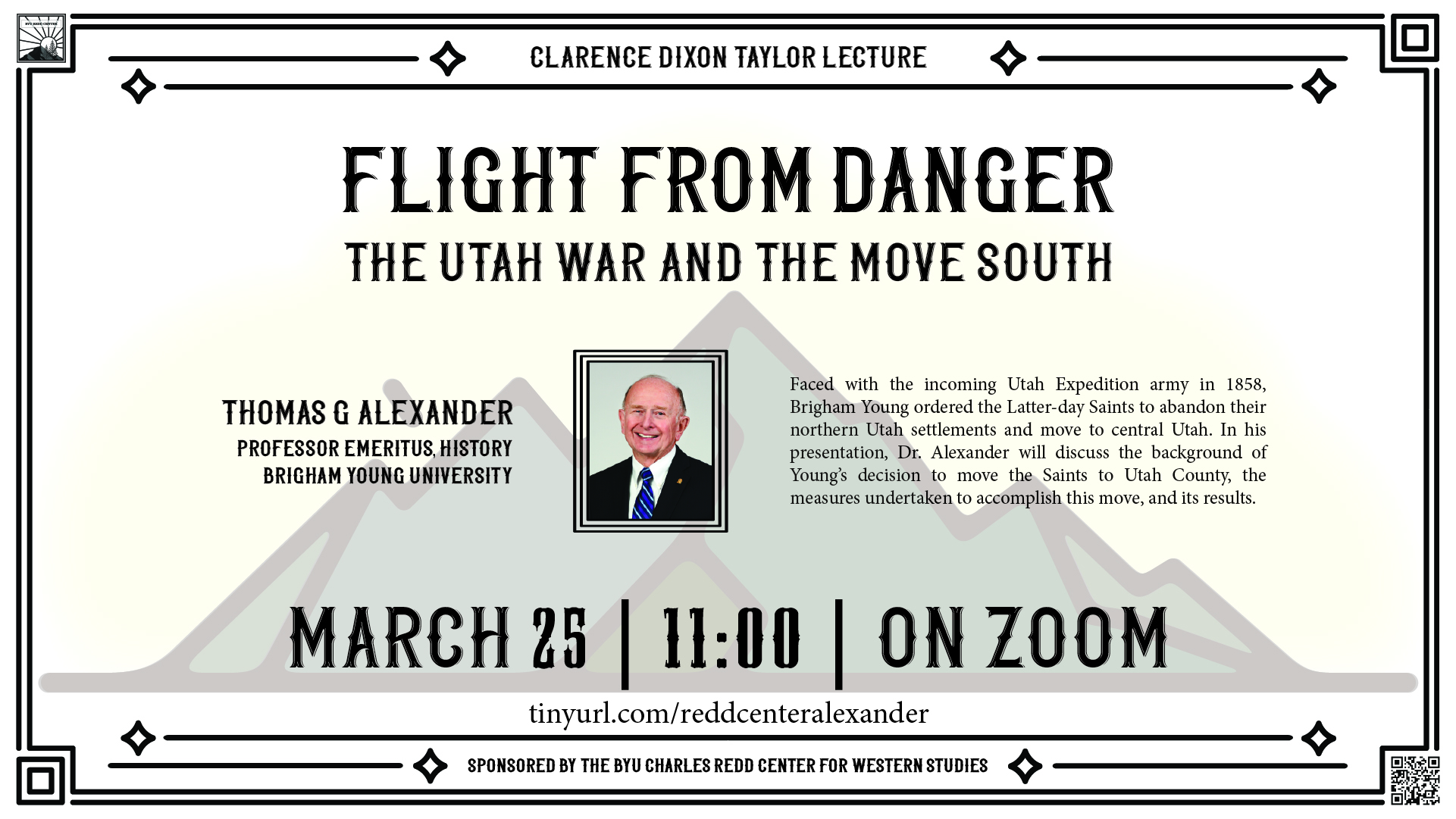 Fear and Flight, Brigham Young and the Move to Central Utah During the Utah War
2021 Clarence Dixon Taylor Lecture

This is the 2021 Clarence Dixon Taylor Lecture. The Clarence Dixon Taylor awards and lecture exist to highlight this histories of Utah, Wasatch, and Carbon Counties in Utah. Alexander is emeritus professor of history at Brigham Young University and former director of the Charles Redd Center for Western Studies. He is a prolific scholar and author of multiple books. His most recent is Brigham Young and the Expansion of the Mormon Faith (University of Oklahoma Press, 2019).
11:00 AM
Via Zoom Webinar - https://tinyurl.com/reddcenteralexander
Facebook Event Page: https://www.facebook.com/events/241142470804060