BYU Redd Center Newsletter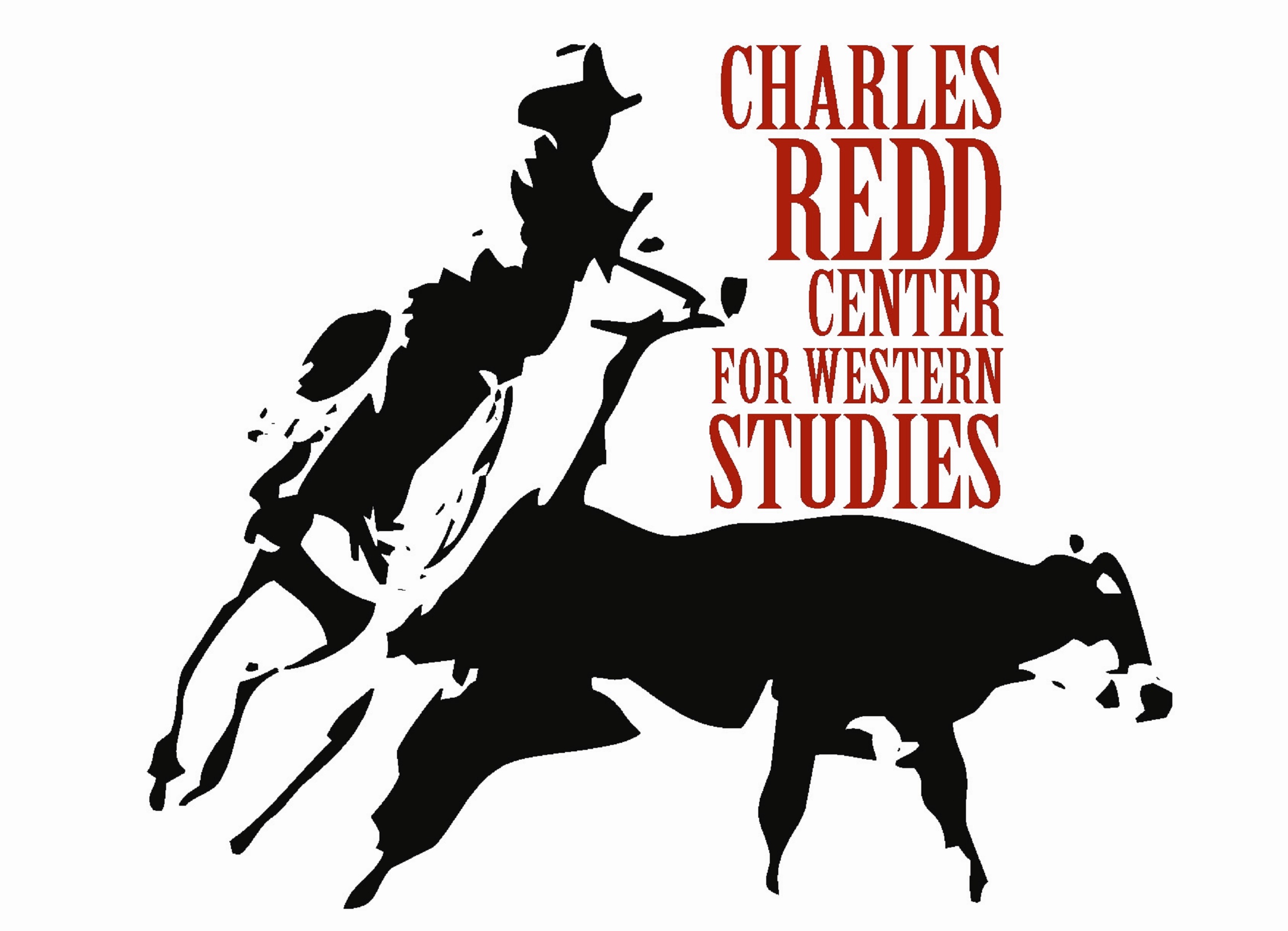 Spring 2018
This is in what will be a regular newsletter from Charles Redd Center for Western Studies at Brigham Young University. Expect newsletters 3-4 times per year featuring information on our annual awards cycle, public events and lectures (all of which are live streamed online), and other goings on at the Center. If you were the recipient of funding from the Redd Center and would like to update us on publications that came from resulting research, please contact us to let us know! We would love to feature your publications here or on our Facebook page.
For more regular updates on Redd Center happenings, follow our social media feeds at:
---
Winter/Spring 2018 Lectures and Events
We have already hosted three wonderful lectures this Winter 2018 semester and have one event left. To view the lectures you missed, visit our YouTube channel here: https://www.youtube.com/channel/UCi-t0EAO2eYMYLL8VYAeMdA. In the future, know that all events are open and free to the public and stream live https://www.youtube.com/watch?v=HNiFz0RQwLw and on our facebook page at https://www.facebook.com/BYUReddCenter/live.
Upcoming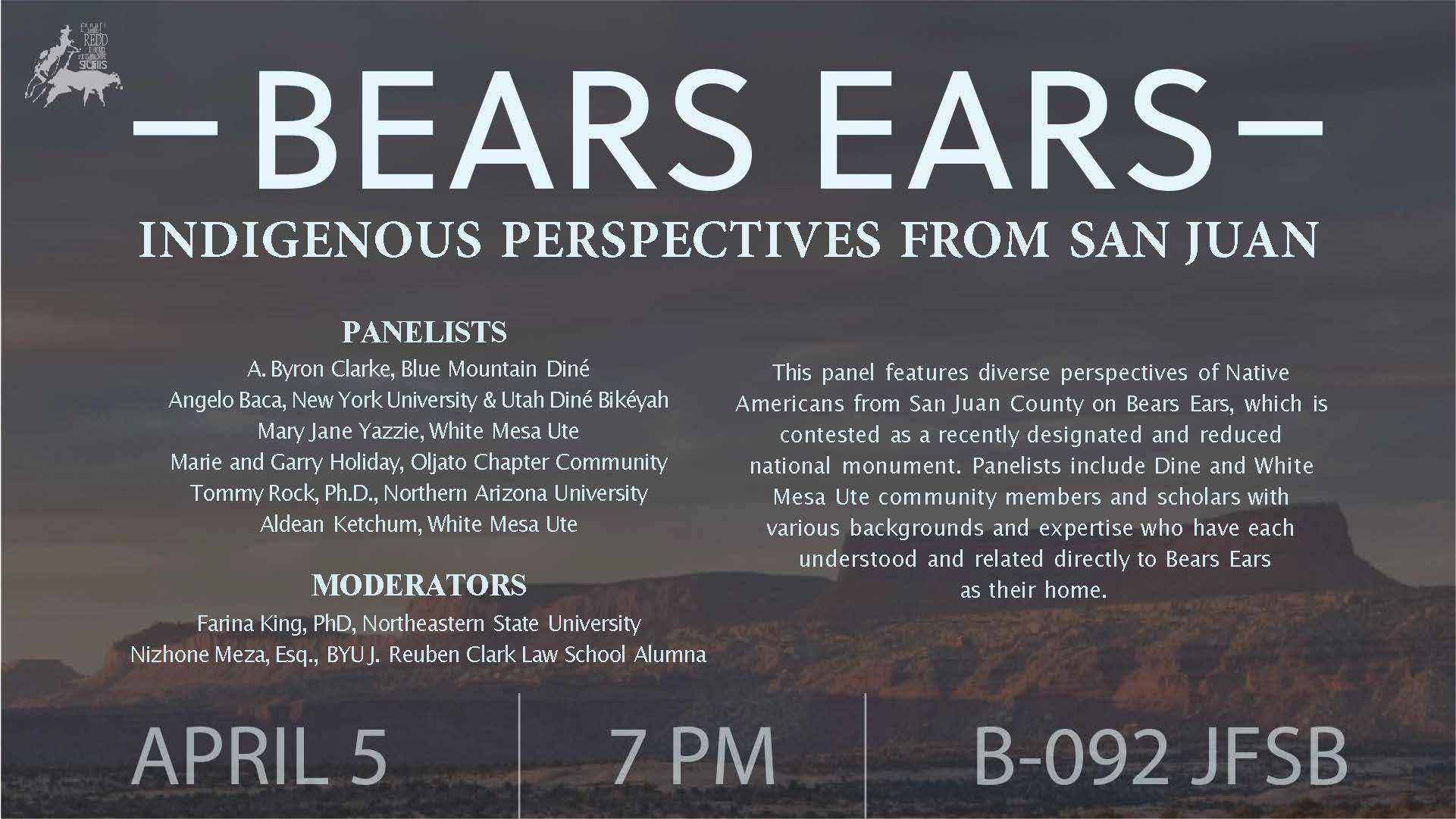 April 5, 7:30 PM, B092 JFSB
A Panel Discussion of Diverse Native Views on the Bears Ears National Monument
For forthcoming details, follow or visit https://www.facebook.com/events/351345202050867/
Earlier this semester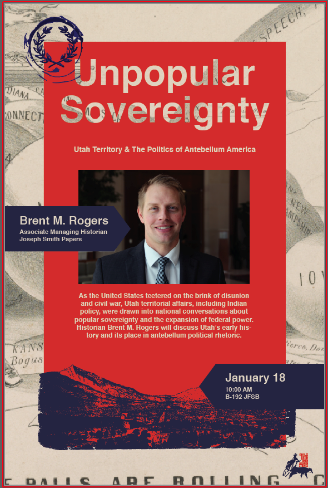 January 18, 11:00 AM, B192 JFSB
Brent Rogers – Associate Managing Historian, Joseph Smith Papers
Unpopular Sovereignty: Utah Territory and the Politics of Antebellum America
Winner of the Phi Alpha Theta 2017 best book award
https://www.facebook.com/events/105893226867170/
February 22, 11:00 AM, B192 JFSB
Dan Flores – A.B. Hammond Chair and Professor Emeritus of History, University of Montana
Coyote America: A Natural and Supernatural History
2018 William Howard and Hazel Butler Peters Lecture
https://www.facebook.com/events/149850068981241/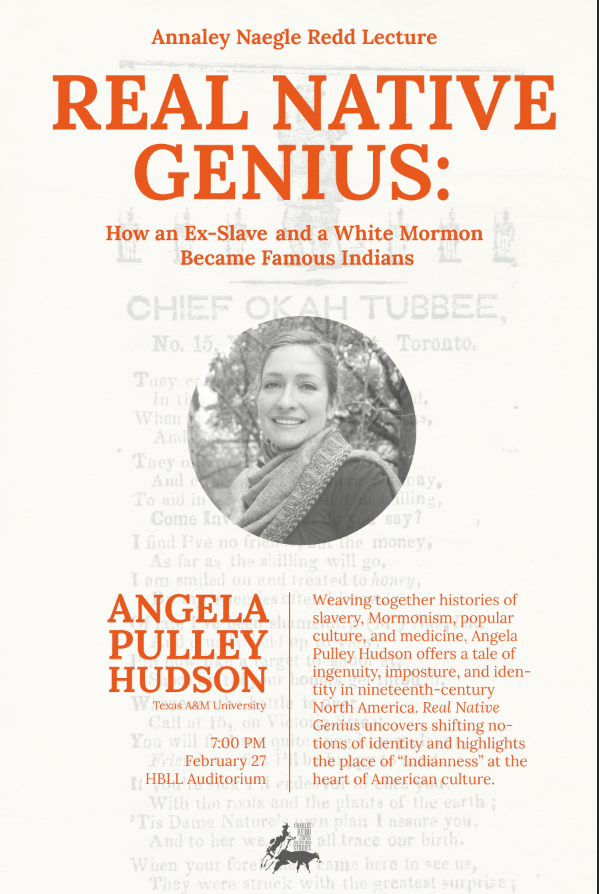 February 27, 7:00 PM, 1066 HBLL
---
Intermountain Histories Website and Free Mobile App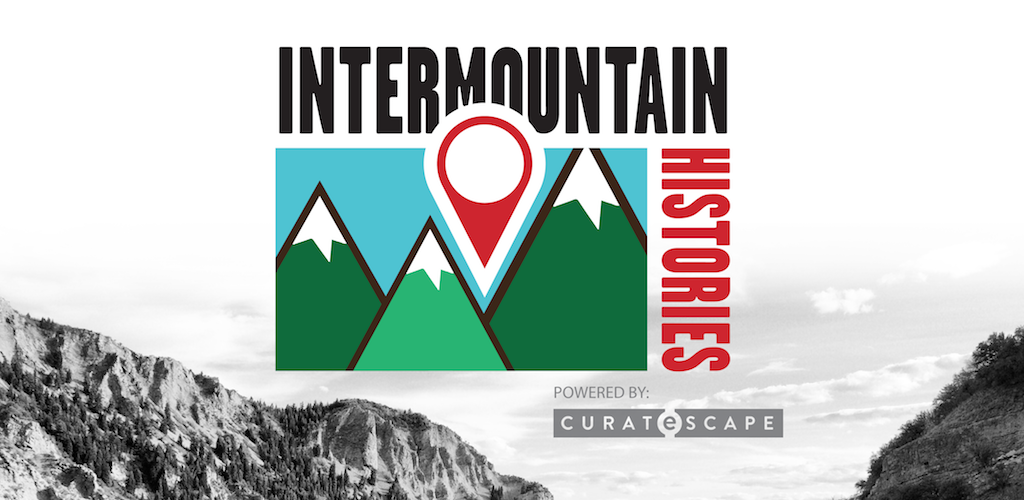 The Redd Center has developed a new free website and mobile app that connects the public to historical stories in the Intermountain West. The project is a collaboration between the Redd Center and professors and students from institutions around the region. With the app or website you can discover the histories of the region's peoples, places, institutions, events, cultures, and more. Using an interactive GPS-enabled map, you can take virtual or physical walking tours of historic sites. As your personal tour guide, Intermountain Histories provides historical information, photographs and images, documentary videos, audio interviews, oral histories, bibliographic citations, and other resources as you explore.
Redd Center Assistant Director Brenden W. Rensink developed the project and serves as its Project Manager and General Editor. We host a rotating series of BYU students at the project via an internship and as Research and Editorial Assistants. To date, professors from Brigham Young University, Colorado State University, Northern Arizona University, University of Idaho, University of Nevada, Las Vegas, University of Wyoming, and Weber State University have participated with their students. If you would like to become involved, contact the project at intermountainhistories@byu.edu.
Visit the project website at http://www.intermountainhistories.org or download the free mobile app by searching "Intermountain Histories" on the Apple iOS or Google Play (Android) app stores.
New content is published regularly. To receive notifications about new stories on the site, follow the project at http://www.facebook.com/IntermountainHistories or https://twitter.com/InterMtnHistory. Recent stories include the histories of irrigation projects on the Snake River, the Utah Homefront during WWII, and Environmental Histories of the Colorado River and Plateau. Upcoming content will feature the history of prohibition in Fort Collins, Colorado, a large number of project from Idaho, and countless other topics of interest.
---
New People at the Redd Center
We have some new people at the Redd Center we would like to introduce you to.

Christopher Smith is the current Visiting Scholar at the Redd Center. Smith has a PhD in Religion from Claremont Graduate University. He has worked as a graduate research fellow at BYU's Maxwell Institute and at the University of Utah, and as a postdoctoral teaching fellow at Utah State University. His peer-reviewed articles have appeared in The Journal of Religion and Society and The Journal of Mormon History, among other publications. His doctoral dissertation chronicling early Mormon and Native American relations won the Mormon History Association's 2018 Dissertation Award. Chris joins us this semester to revise and expand his dissertation for publication as a book. His research explores the traumatic and often violent collision of pioneer and native worlds.

Joshua Franzen is a senior history major at Brigham Young University. He completed an internship last summer with the Intermountain Histories project and is now serving as a Research and Editorial Assistant for the project. Aside from general duties uploading content the backend of our website, Josh is busy researching and writing histories of buildings on BYU campus that will be featured on the project. These stories will be a great addition to the project and prove popular among alumni, visitors, and students at BYU.

Marc Wein, Natalie Larsen, and Samuel Hauber are just starting their internships with the Intermountain Histories project. Marc is a senior History Major, Natalie is a senior History Teaching Major, and Samuel is a Junior History Major. This semester they will be studying about the field of public history and ranging out to conduct research and writing of their own history projects to be featured on the project website and app. We look forward to seeing what they dig up!

by Brenden Rensink